Creation23 at
the social london
Words & Photo: Elly Bailey
Tuesday 16th April saw Alan McGee's new record label Creation23 and This Feeling join together to put on a night of music at famous grassroots venue The Social in Soho to raise money for Musicians Against Homelessness. The gig was part of a week long tour featuring Creation23 signings Young Garbo and Rubber Jaw playing every night along side some of the best emerging bands in the country.
The Rezner were on first; raucous and full of energy they were the perfect opener for the night. Storming through their set, lead singer Sam put down his guitar at one point to sing the bands debut single 'Mickey', a fun and youthful sing along track.
Next up were The Clockworks from Galway, whose music and stage presence were reminiscent of The Clash and Madness. A heavy beat contrasted with bouncing lyrics - their tracks were clever and memorable. The line "I lost myself in The Smiths, found myself in The Streets" particularly stood out.
The third band of the evening were Rubber Jaw. Introducing a change of pace to the night, their soulful songs were noticeably slower and more tender. They enticed the audience and each line had a strong meaning behind it.
Finally Young Garbo took to the stage, encouraging the audience to join in with their liveliness. The singer danced around shaking his tambourine, and the watching crowd couldn't help but move along with him. There was a sombre moment in the set, as the band acknowledged the passing of their friend Ryan (the drummer of Welsh band Rapture) and respectfully dedicated a song to him.
They ended with an unexpected ABBA cover, putting a special Young Garbo twist on it and leaving the audience beaming.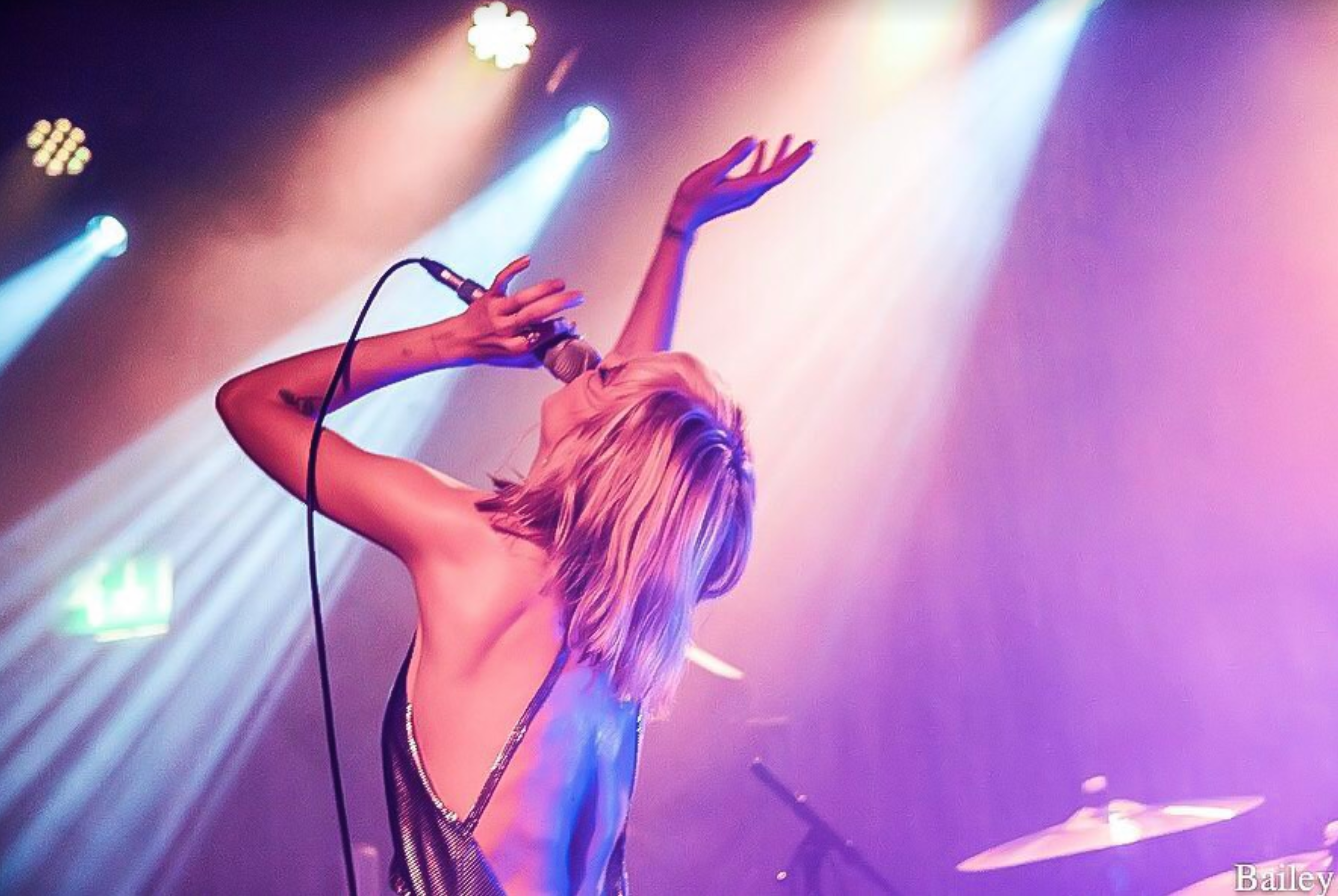 Words + photo: Elly Bailey
Having recently released their debut album "When We Land", Anteros played a triumphant show at London's Scala to a packed out crowd full of high energy and spirit as part of their UK tour. The indie-pop band, who've just released their debut album, stormed through the hits creating a big party atmosphere as fans danced along and were treated to Laura's consistent interaction with the crowd, as she showcased her beautiful voice and stylish moves.
Clearly, the band were enjoying every moment of their performance, permanent huge smiles from the 4-piece beamed back by an adoring audience. Closing in true Anteros style, Laura invited female fans onstage for their women empowerment song Bonnie, a final magical moment at what felt like a landmark show for the band.
April
13 Liverpool Arts Club
20 Leeds The Key Club
July
13 Hidden Herd Festival
19 Tramlines Festival
bang bang romeo at the hard rock cafe
Words + Photo: Elly Bailey
It was a private event, there was an open bar and people were slightly tipsy and ready to rock out to some music. Bang Bang Romeo took to the stage, in front of an audience of industry people, ready to make their mark and make the crowd move. Lead singer Anastasia 'Stars' Walker, wowed the audience with her impressive, stadium filling voice, the rock quadruplet proving that they are ready for their support slot for Pink starting in this June.
"Is the bar closed until we're finished?" Stars asked the crowd who nodded their heads with a smile. "Right, next song then!" Charismatic and incredibly talented, Bang Bang Romeo lit up the Hard Rock Café on a Monday night, bringing energy and life and taking away some news fans.
CIRCA WAVES AT
'CIRCA WAVES TAVERN'
Words + Photo: Elly Bailey
The Circa Waves Tavern (more commonly known as Camden's The Monarch) opened on Tuesday 19th March for one night and one night only to promote the bands newest album 'What's It Like Over There?'
Walking in, the band were behind the bar serving out free drinks in Circa Waves branded pint glasses, fans were collecting free coasters, and Wolf Alice's Theo was on the DJ decks. The room was filled to the brim for Circa Waves set, as fans went crazy for such an intimate show. "The record label said to us we didn't need to do any shows until our tour," says frontman Kieran, "but we said no! Those people deserve a gig!" And boy did they get one. The set featured some new songs, along with old classics, with the crowd wildly singing along to their favourite songs such as 'T-Shirt Weather' and Stuck In My Teeth.
Circa Waves third album 'What's It Like Over There?' will be released on April 5th and their tour begins on 15th April in Oxford. Pre-order the album here: http://smarturl.it/CW_TWCM
PRETTY VICIOUS AT CAMDEN ASSEMBLY
london
Words: Susan Hansen Photo: Liz Gander
Their thumping live shows have already gained them recognition, and rising quartet Al Moses' Libertines-Oasis fusion worked its rocking wonders on the London crowd as they delivered their support set with attitude and presence. The band's clever, playful style went down a storm.
Merthyr Tydfil's punk-rockers Pretty Vicious' live sets never ever disappoint, Tuesday night was no deviation, as the four-piece delivered a sweaty, blistering headline show at the Camden Assembly. Fully focused, they owned the stage with their trademark swagger, and they kicked off events by launching straight into Are You Ready For Me, followed by the lyrically-charged These Four Walls, a song which their frontman Brad Griffiths has described as being about 'smashing up' a venue.
Playing to a euphoric moshing crowd, who chanted and shouted out their lyrics, the venue didn't get smashed up this time, but it came fairly close as things got sweaty, and their anthems National Plastics and Cave Song stimulated crowd-surfing and diving. Pretty Vicious ended their set with Are You Entertained signifying their unblemished youth and the addictive, mad and chaotic exuberance of their live shows.
Words: Elly Bailey Photo: Andrew Cooper
Sea Girls played a sold out headline show at Heaven last week (March 8) armed with a lively and euphoric set that lit up the audience. Apre, the support, set the scene nicely...they're an indie-pop band full of tunes and charm. Definitely ones to watch.
So, on to Sea Girls...who took to the stage with a dramatic walk on before launching into a rapturously well received set; hands in the air, mosh pits, mass terrace style singing/chants, all the signs of a band in ascendancy are here. Something as well that couldn't not be noticed was the lack of phones throughout the crowd, this young audience living life in the moment rather than through a screen, and loving every single minute of it. The band, too...
"This is the best fucking night of our lives," lead singer Henry told the crowd, walking down to the barrier to shake fans by the hand.
Be sure to catch Sea Girls at this summer's festivals, their anthems are made for the biggest of stages.